PUBG Lookup Features
All the PUBG stats you can handle
Search for any PUBG player to get season stats, recent matches, recent activity statistics, detailed match reports, and more for XBOX, PlayStation, & PC.
---
PUBG Season Statistics
Stay on top of your current and past PUBG season statistics. We pull statistics straight from the PUBG servers so you know you're looking at current information.
chocoTaco's Player Profile
---
Season Overview
The season overview tab gives you a bird's eye look at how your season in PUBG is going.
K/D and Average Damage per Match
Get your kill to death ratio as well as average damage dealt per match..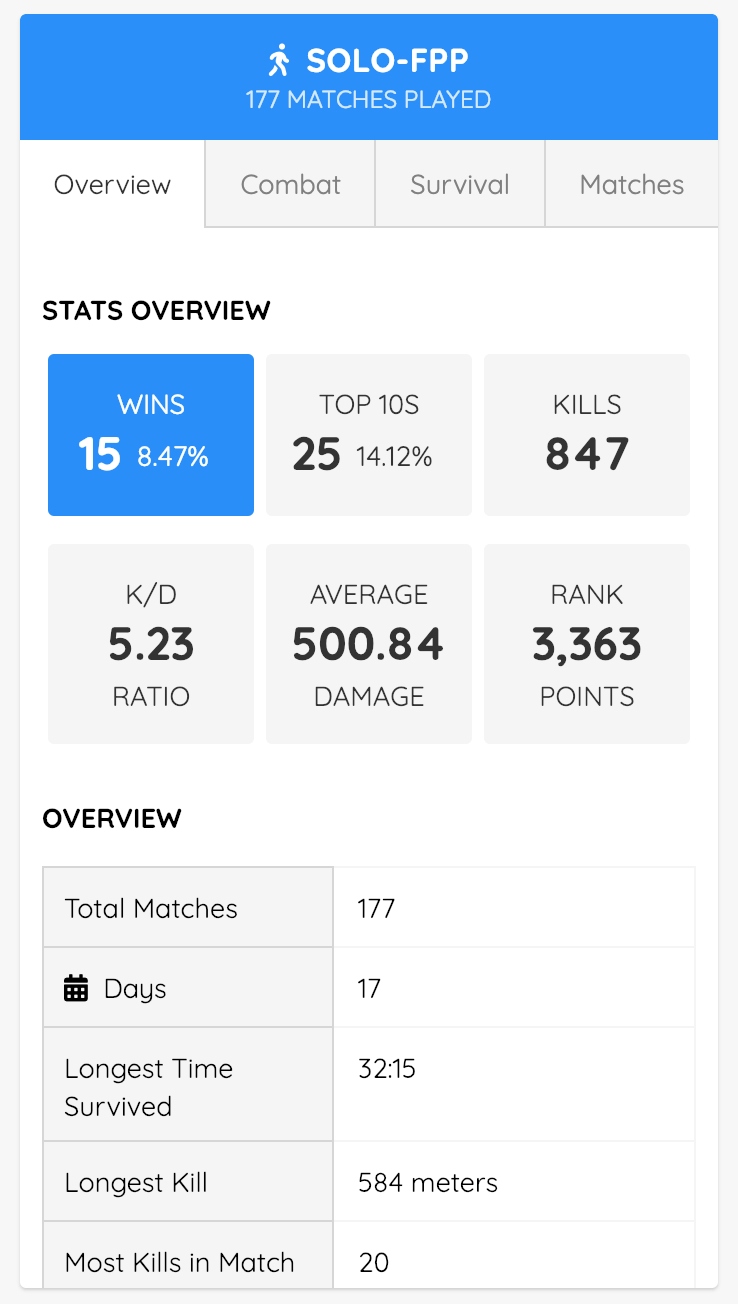 Recent Matches for Game Modes
Check out the last 20 matches for a specific game mode. Get a quick glance at your matches or dive down for more detail.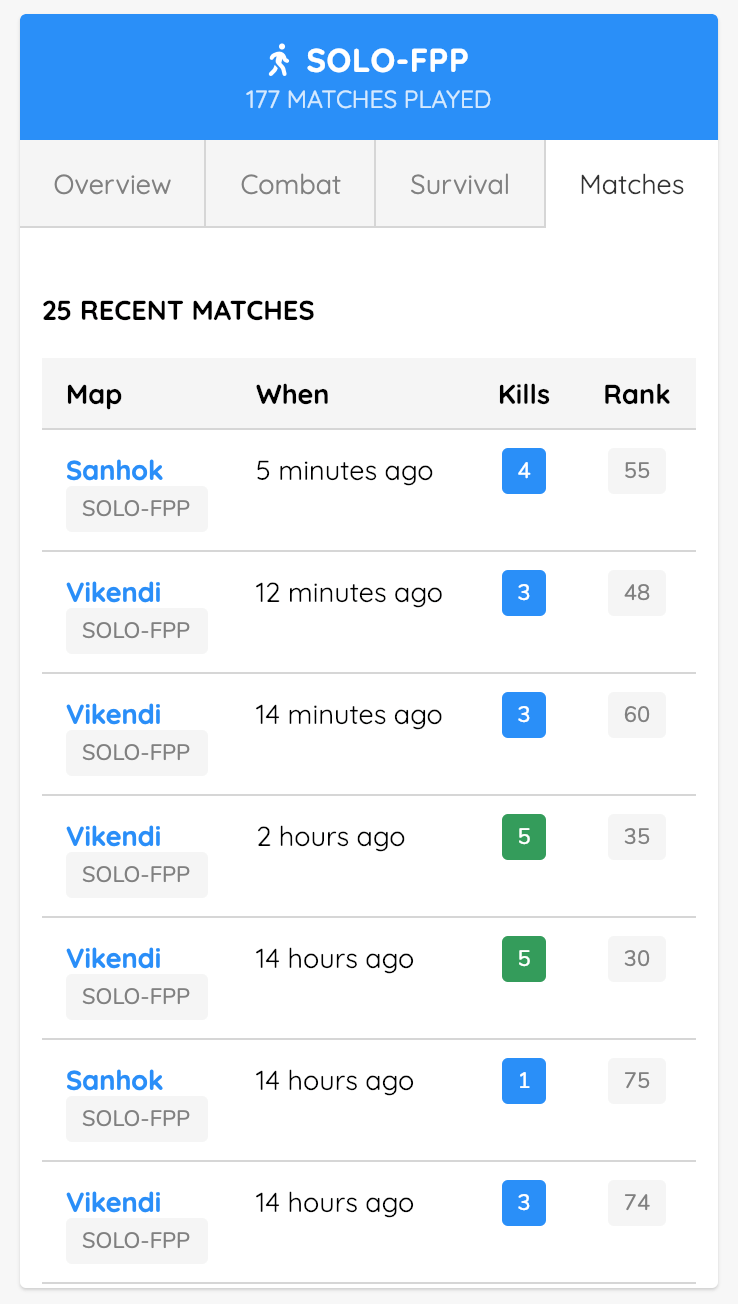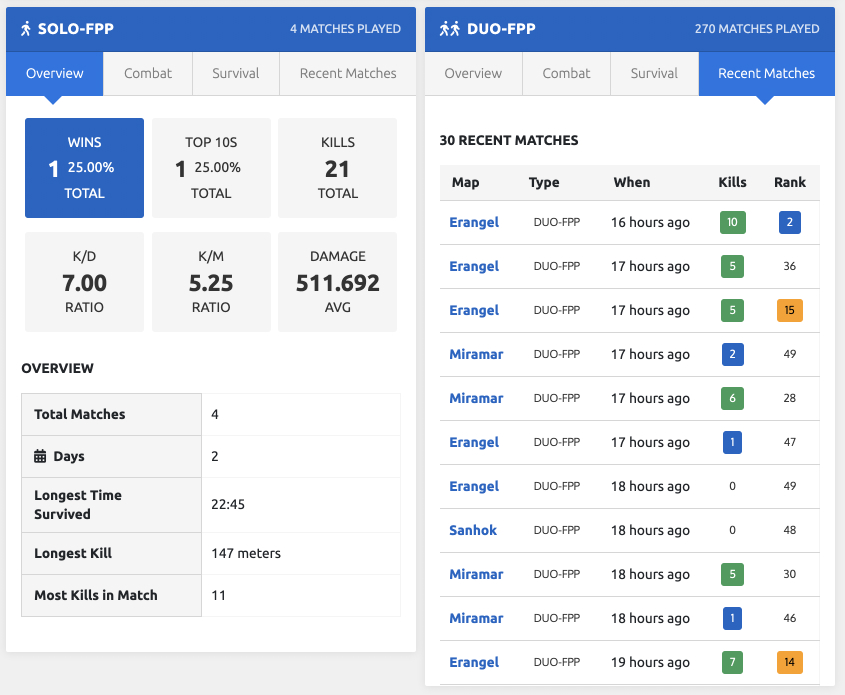 Recent Match Lists & Previews
Get a match preview or list view of your most recent matches. Click in to see the match report. Keep track of your stats while you're playing or watching your favorite streamer.
Check out chocoTaco's recent matches
---
Match previews
You can view all of your recent matches in a list view or a preview. When in preview mode you'll see many more details about the match so that you can find just the right one.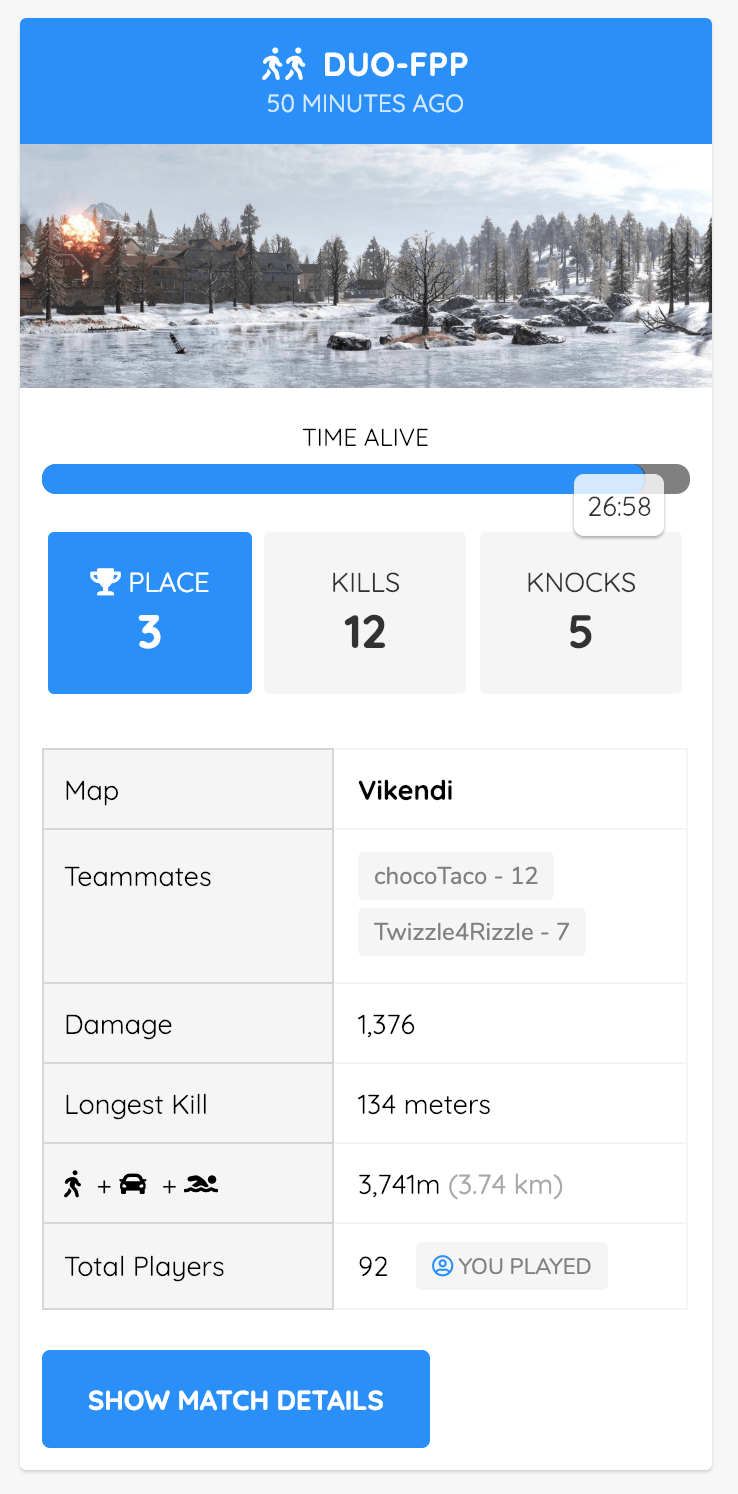 Compact recent matches
For a much smaller, less detailed view you can select the list mode. When in list mode you can see all of your recent matches in a compact table that lets you scan matches faster.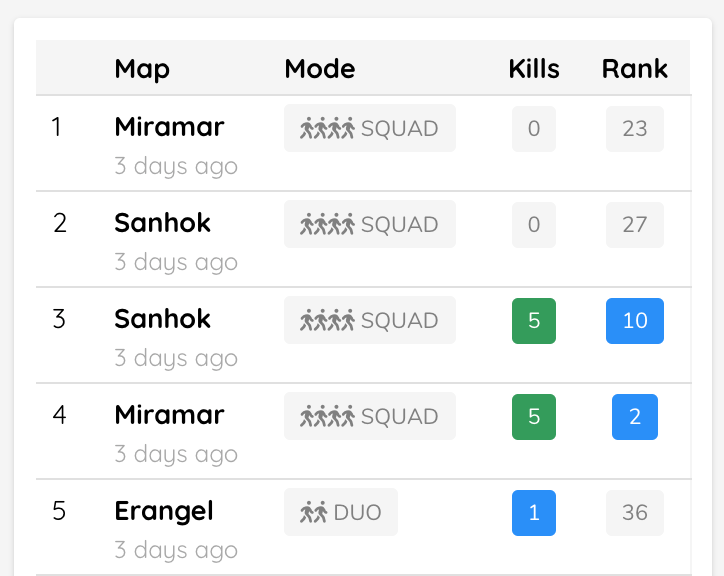 ---
Detailed Match Reports
Statistics and details on specific matches help you refine your game. Damage hit region charts, damage caused and received details, and overall details help you pinpoint areas of your game to work on. Share your match with your friends to prove you won.
View a Match Report
---
Match Overview
Get a bird's-eye-view look at how you or your friend (or your enemy) did during that match. All the basics.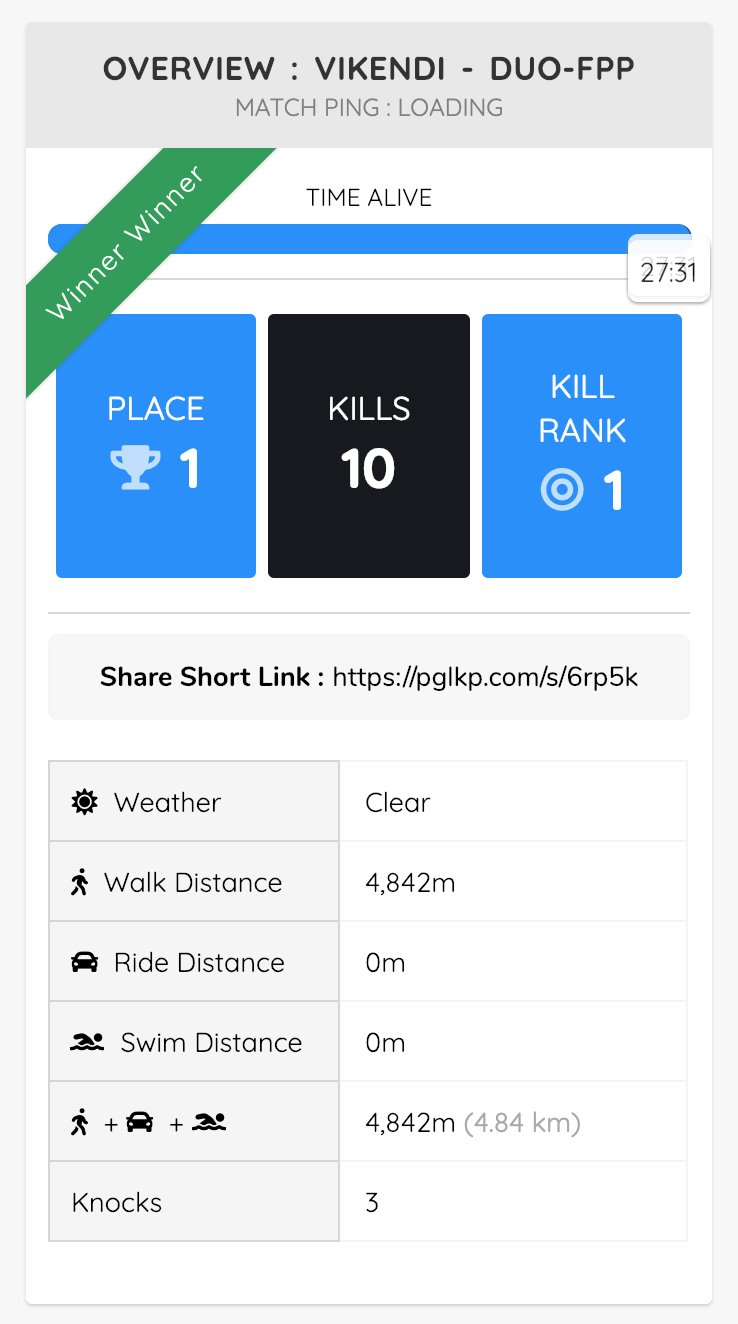 Hit Region Graphs
Ever wonder where your bullets go? Now you can find out. Quickly see just how much damage went to which hit region for the whole match.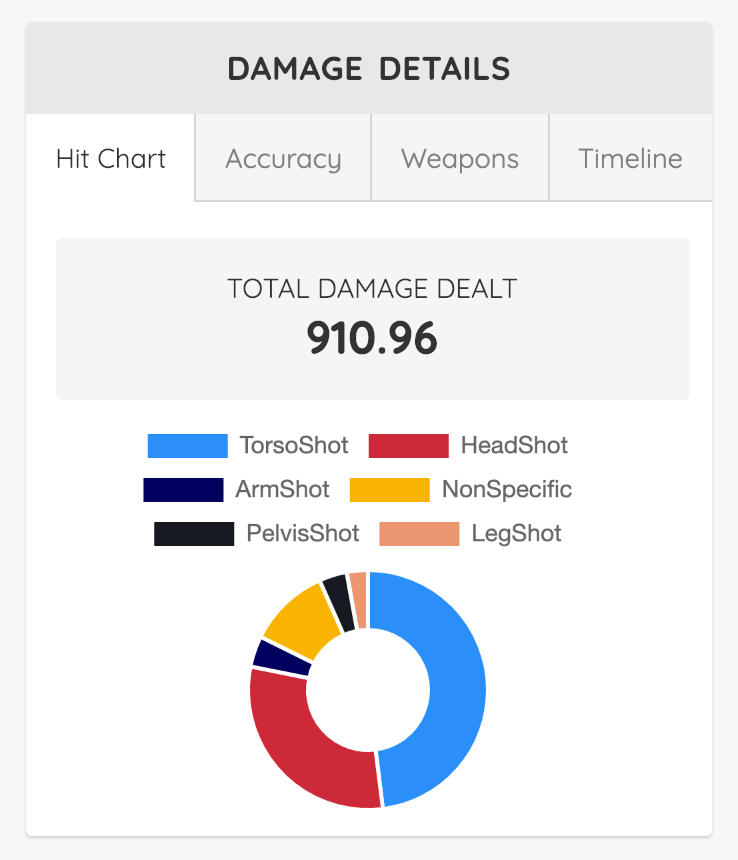 Damage Details Timeline
When you need to know exactly how much damage you did to a specific player. Get a list of all combat interactions you had in the match. Find out just how much damage you did per bullet. You can also see damage done to you.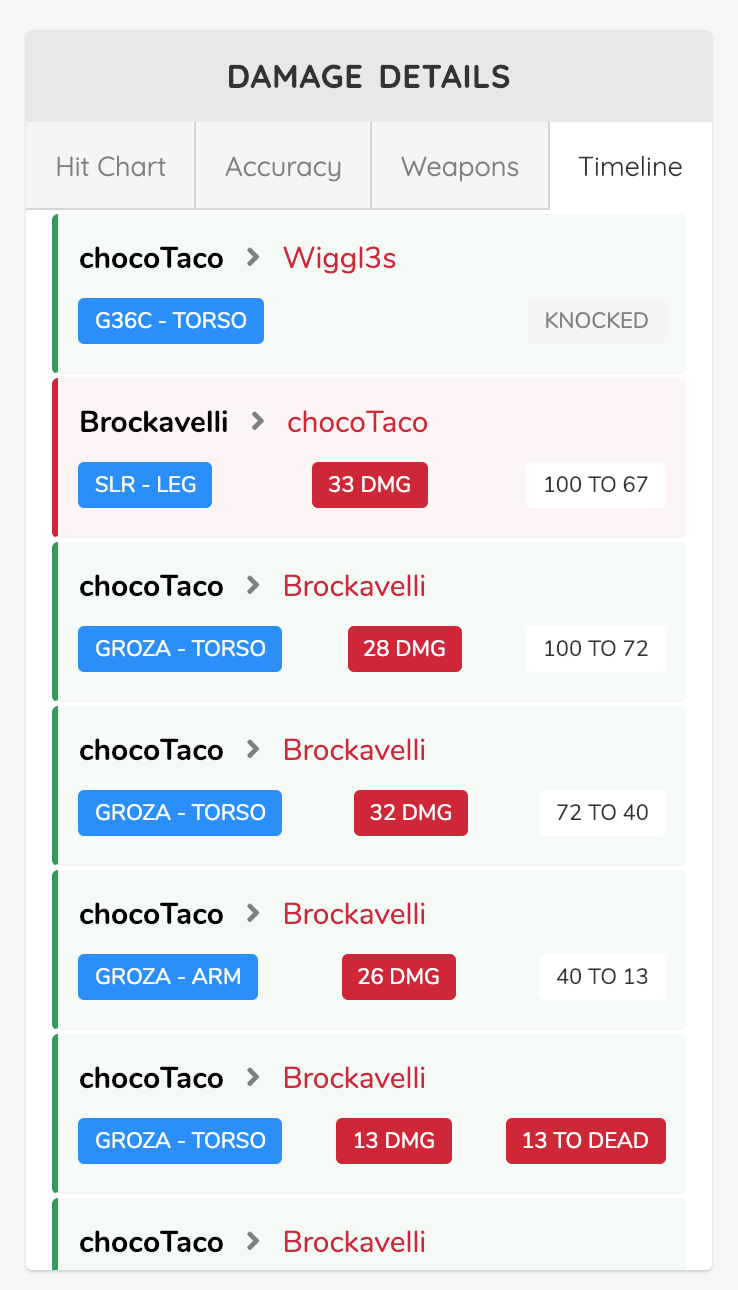 ---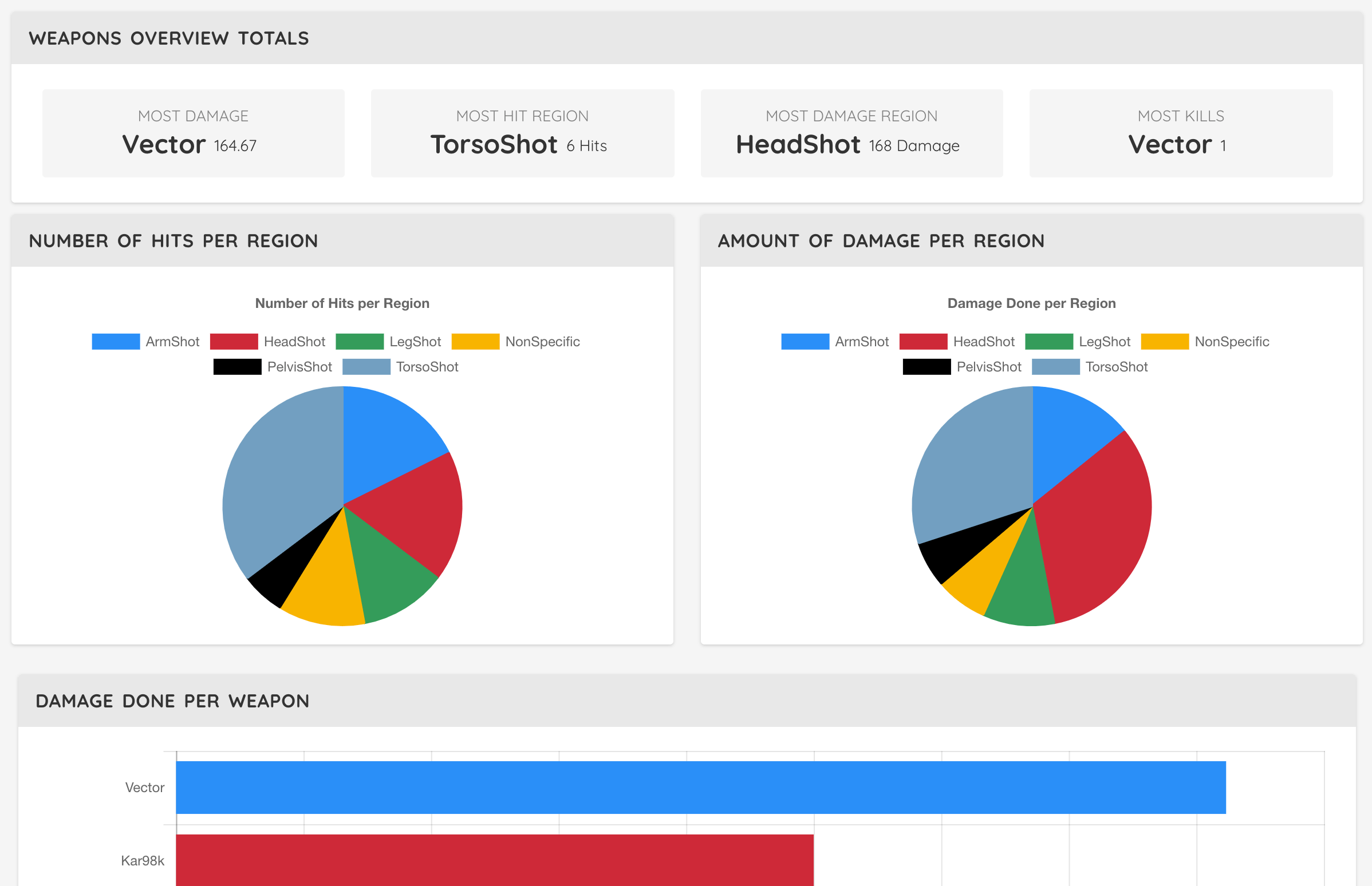 Recent Weapon Stats
Get statistics on where your shots are going, how much damage they're doing, and what weapons are the most effective for the last 10 matches.
---
Damage done per weapon
All of the weapons you used in the last 10 games are totalled and graphed to show you what weapons you are doing the most damage with.
---
Kills per weapon
We graph all of the kills you had in the last 10 matches to show you which weapon is getting the job done.
---
Lifetime PUBG Stats
Want to know how well you've done since you started playing? Here's your breakdown. Just like your season overview you'll get a lifetime game mode overview of your whole dinner career.
---
Combat Statistics
Your career combat statistics compared with the current season can tell you a lot and give you good insite about how you're improving.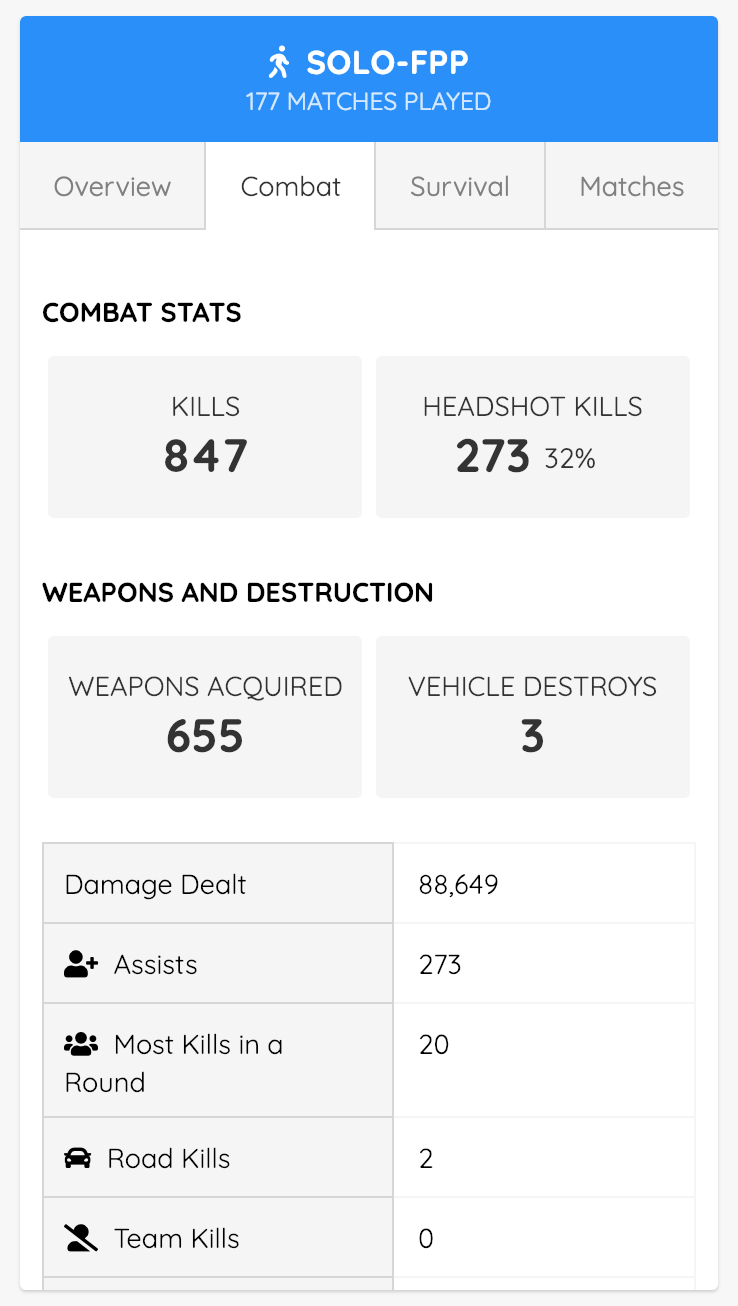 Survival Skills
It's one thing to get a high kill count, it's another to keep yourself in the game. Get details about heals, boosts and travel distances here.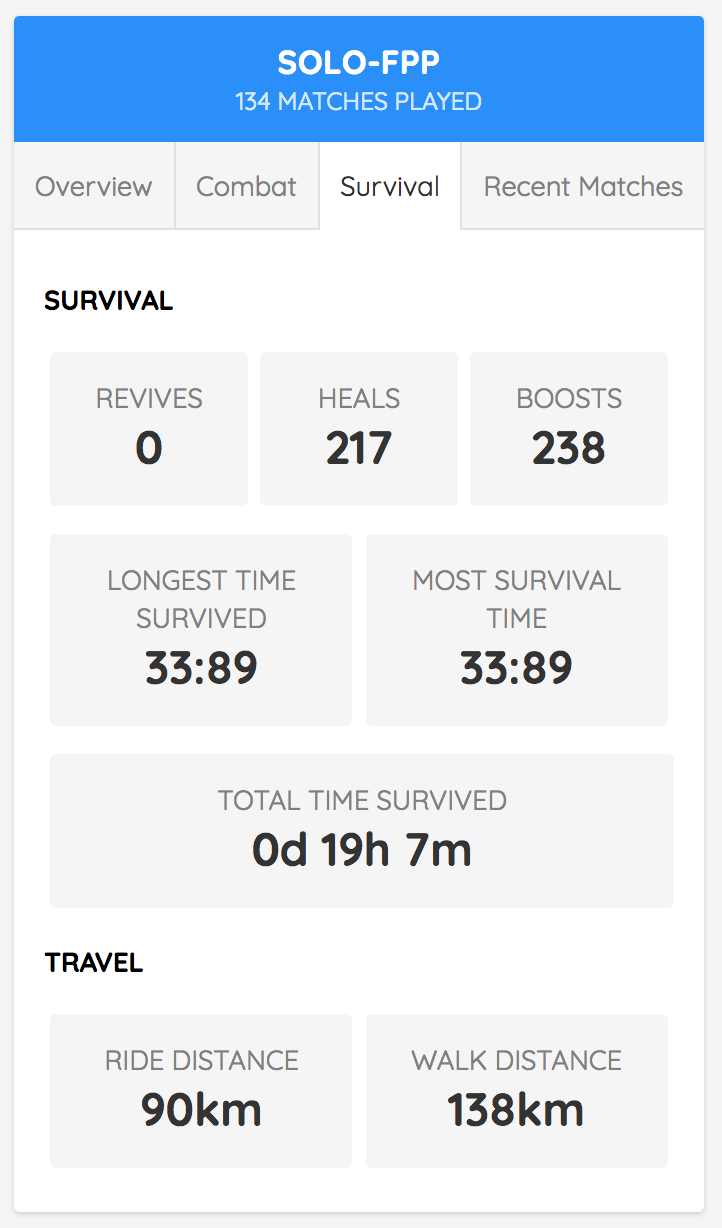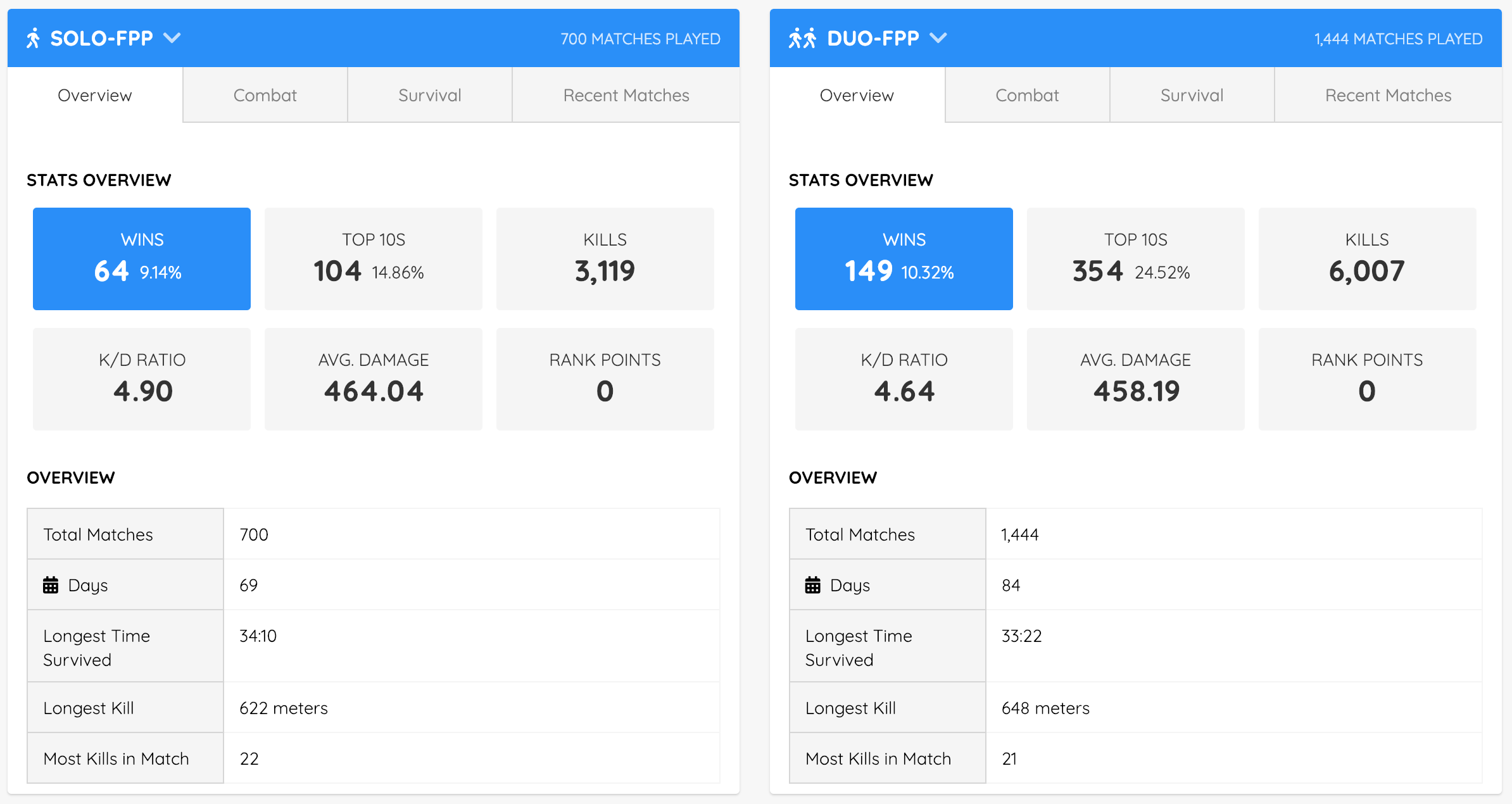 ---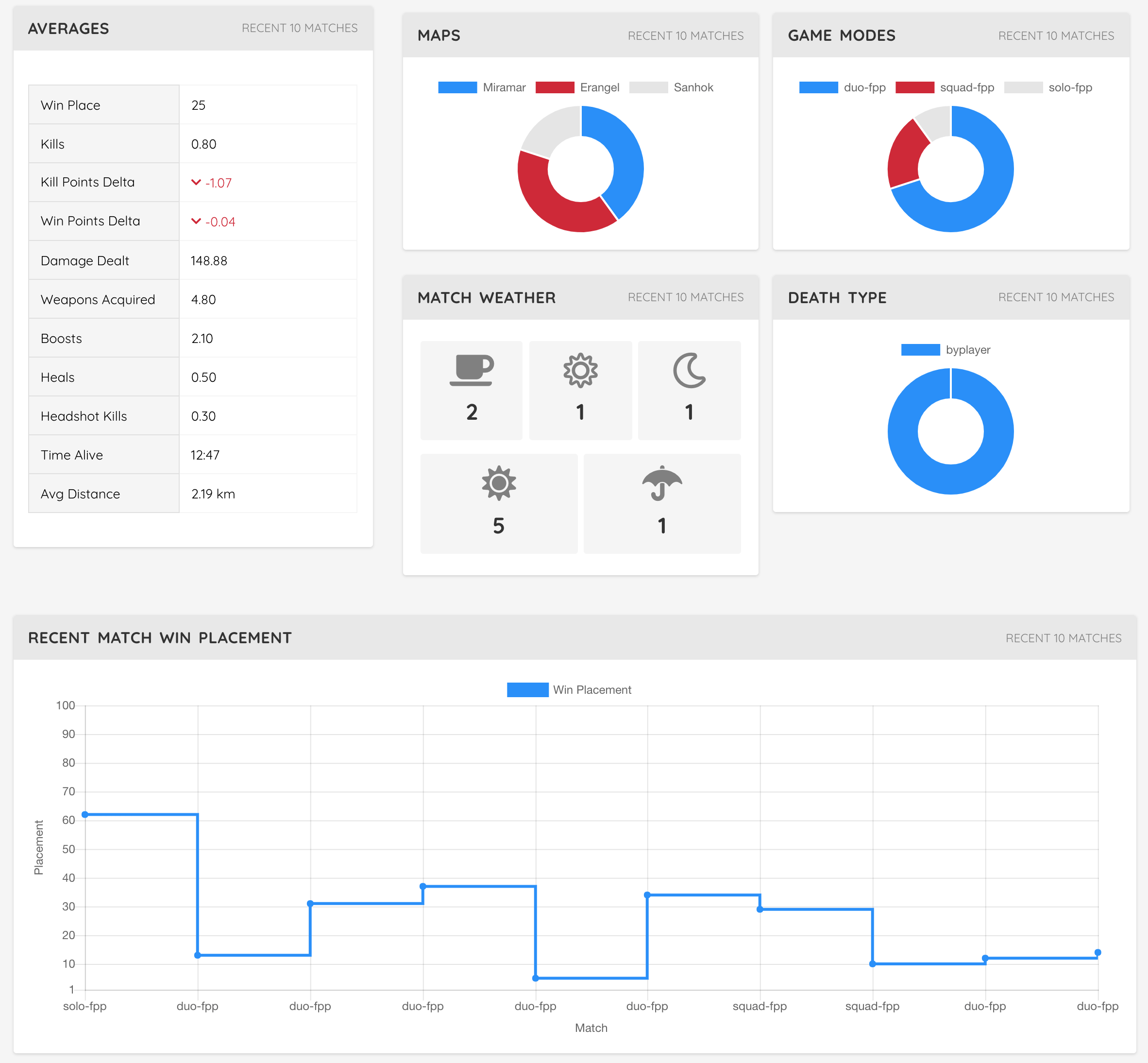 Recent Matches Overview
Get helpful information on your previous PUBG matches. We compile details from previous matches to give you insight about how you've been playing.
---
Match Averages
Using information from some of your last matches we can give you averages to give you more of a sense of how you play each game over time.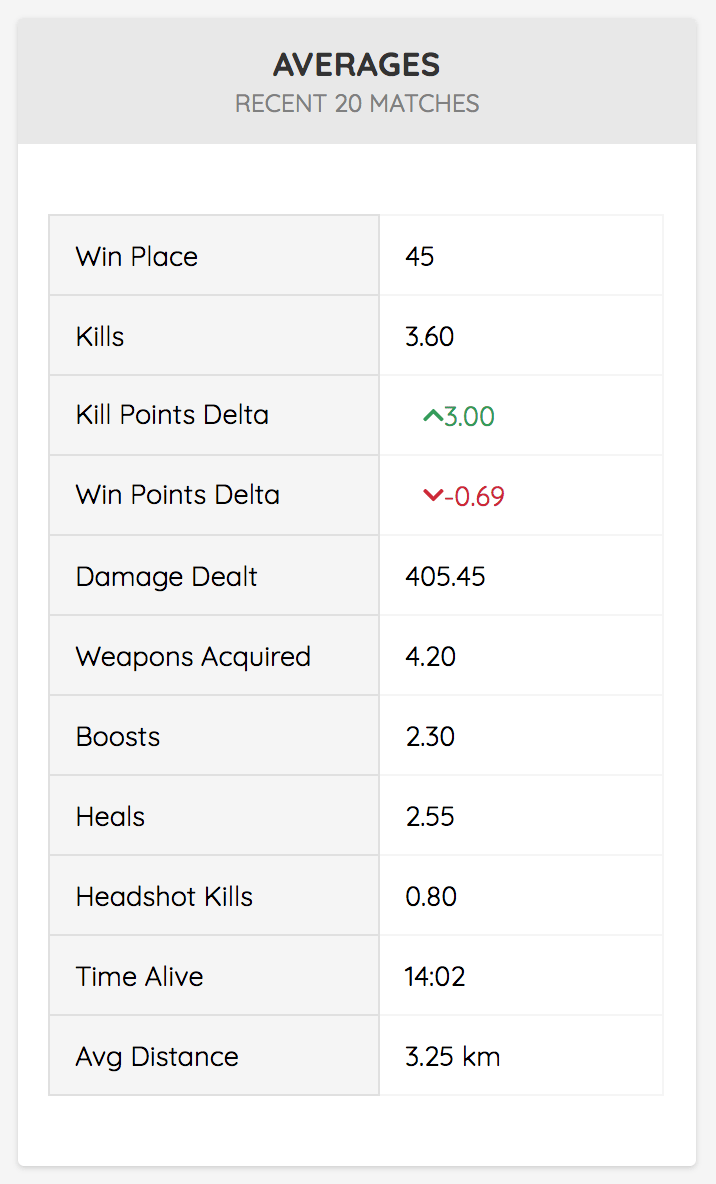 Recent Match Graphs
How many times have you thought "I only play Miramar..." or "Is there even more than one map?". Now you can know for sure.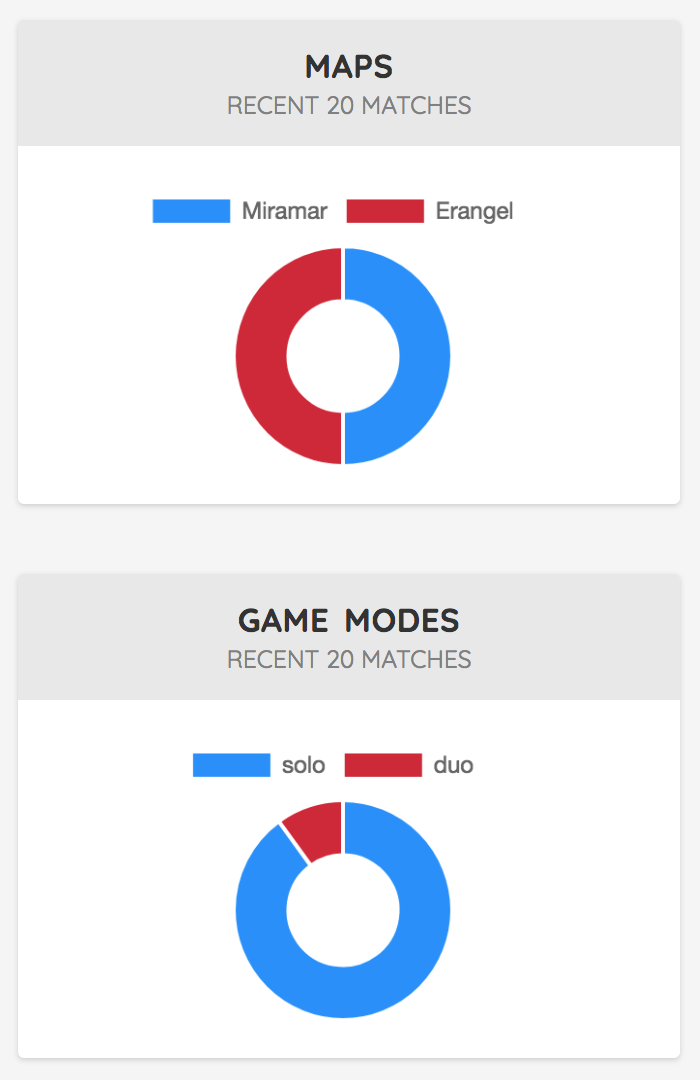 PUBG Report Integration
Have you ever used PUBG Report? It's incredible. PUBG Report lets you view matches where you were killed by or killed somebody streaming. It's a cool way to see reactions of other players and how many people were watching when you fought it out!
---
Your PUBG Report Match List
From your Player Dashboard you can access all matches available from PUBG Report. Get the full list of matches that have streamer interaction directly from your PUBG Lookup account.
PUBG Lookup Match Report Integration
Every match report automatically checks PUBG Report to see if that match has any streamer videos available. You'll be able to see in-depth match stats and then view the stored VODs to see all of the salty streamers.
---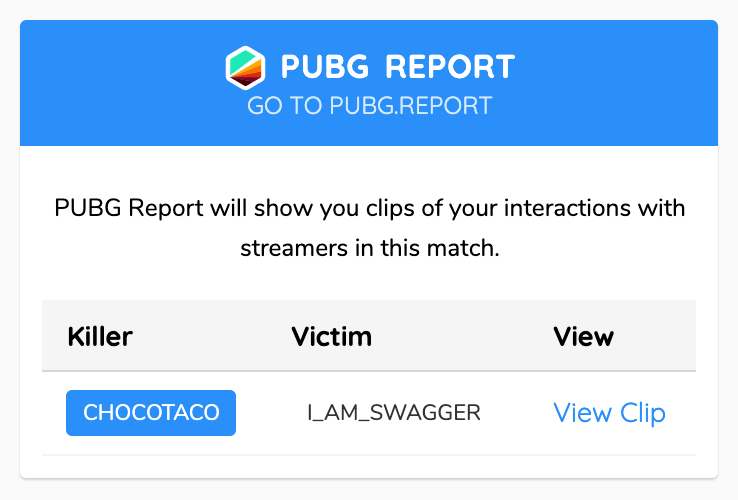 ---
Dark Mode Has Arrived
It's everywhere. It's here, too. Dark mode is easier on the eyes when you're playing in a dark room. The entire interface was updated to allow for a dark background with light text. It doesn't look hald bad either. Switch between themes in your accont settings or using the theme quick toggle.
Easy Toggle Between Themes
You can toggle between themes in your primary navigation. On tap/click and the entire interface changes from a light background with dark text to a dark background with light text.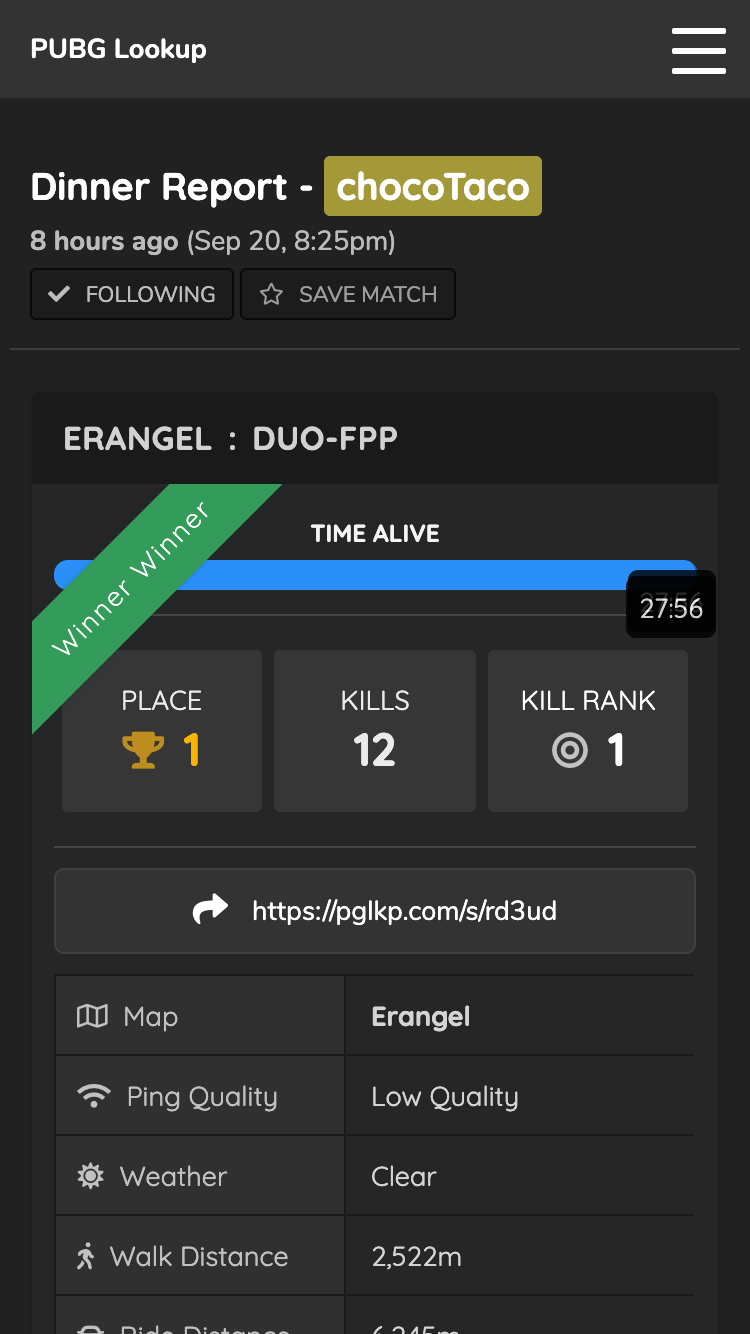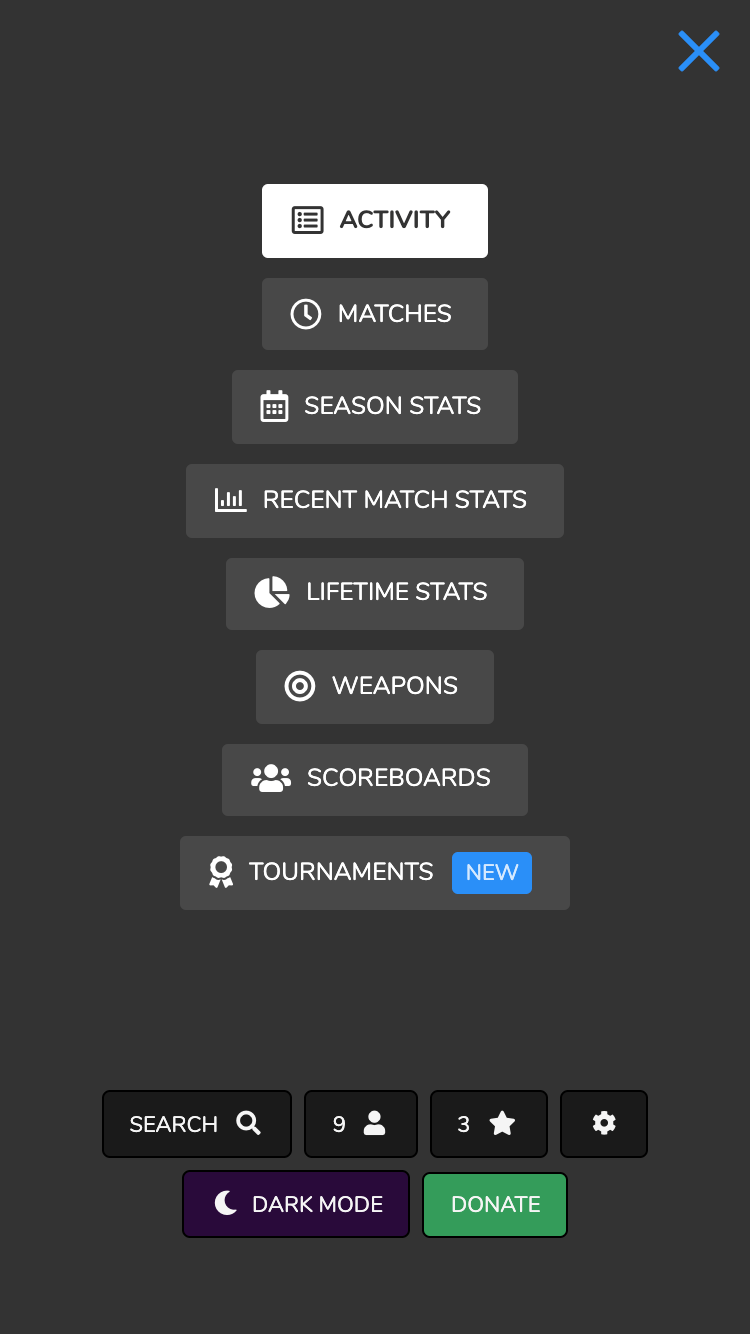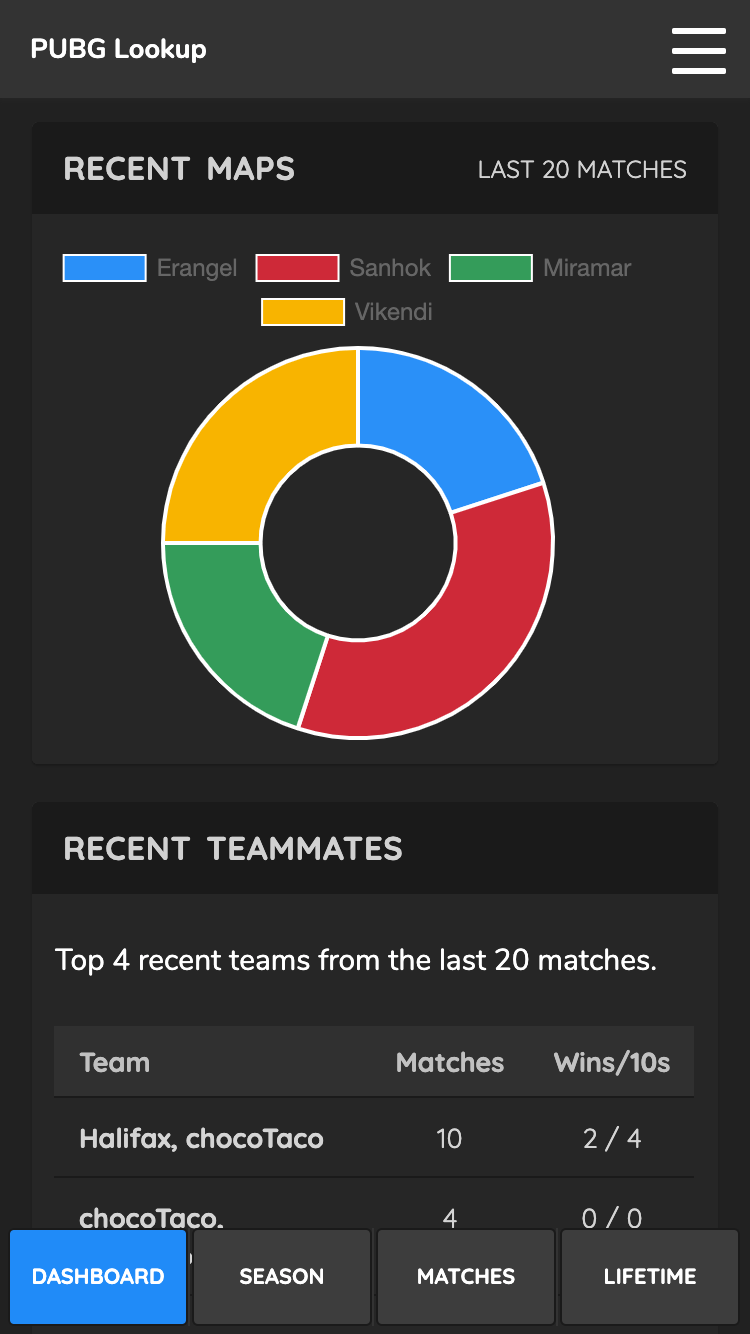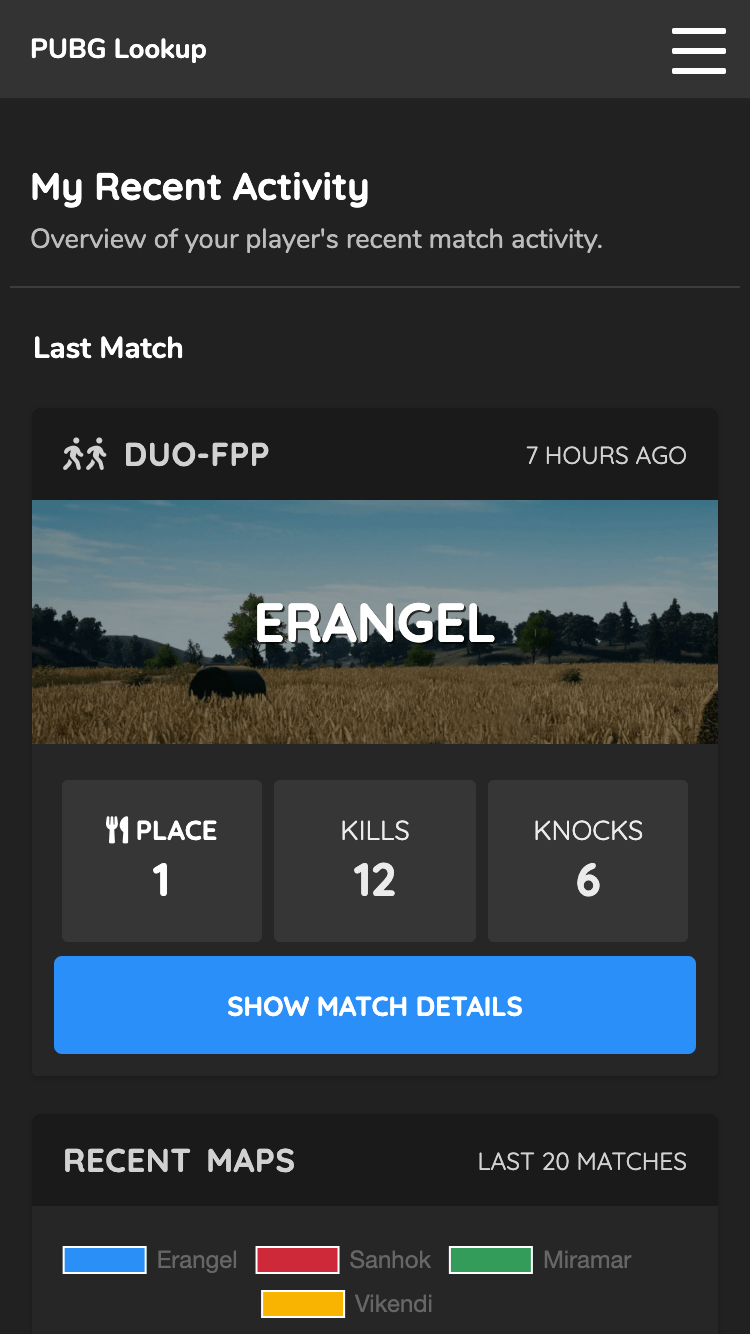 ---
Follow Your Squad
Keep track of your squad and favorite PUBG players. Easily star players to look up their stats, see their recent matches or casually rage-compare your recent stats.

Save Your Favorite Matches
Now you can save that double-digit-dinner you were telling your squad about. Mark any match report as a favorite to save the match details and have it quickly available in the nav.

---
Match Kill Trees
Want to get a visual of your kills in a match? No problem. Every match comes with a visuall kill tree breakdown so you can see how each kill changed the outcome of the game.
---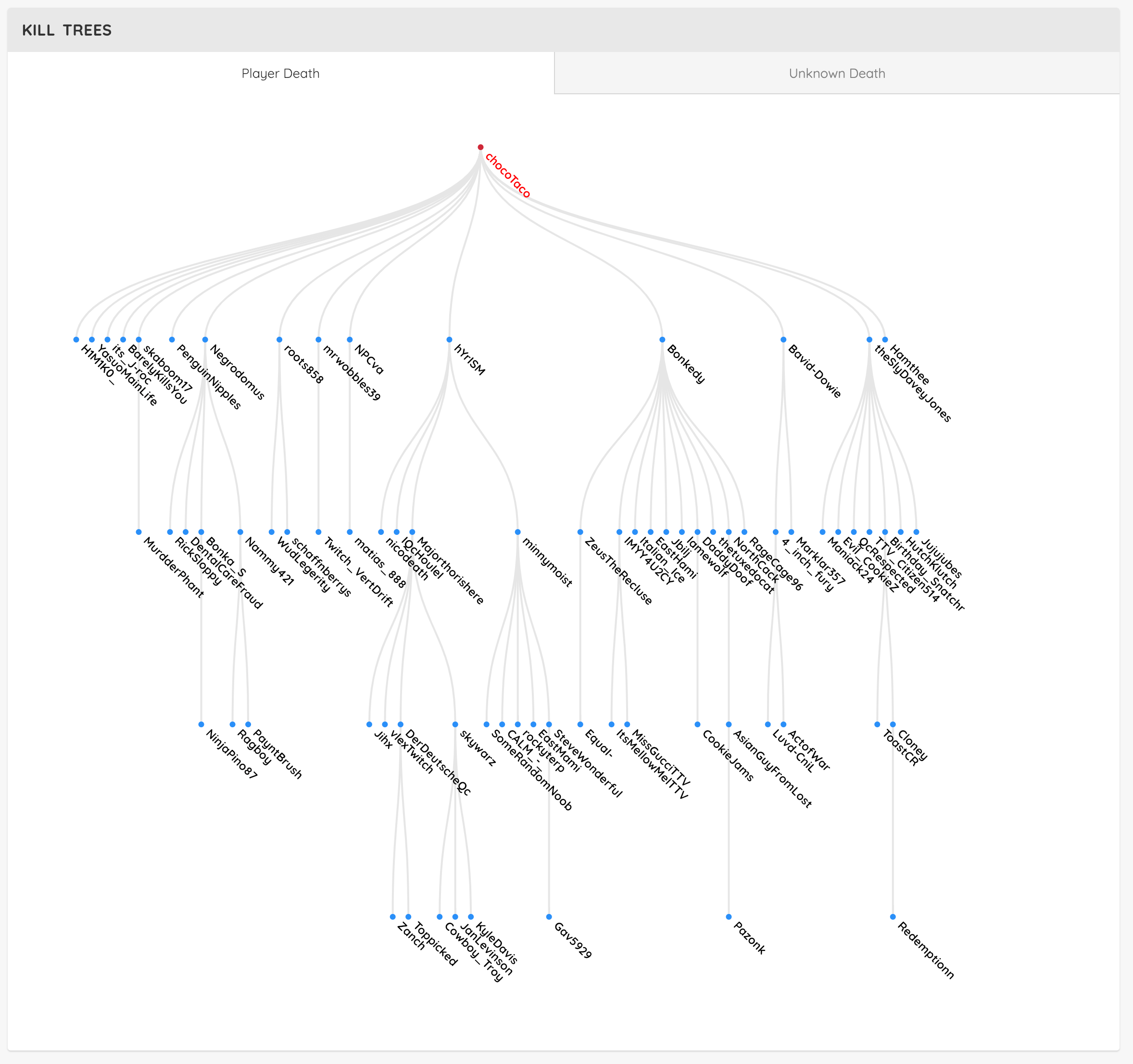 Export Match Data
Are you a tournament organizer or just a number cruncher? You can export match data to a spreadsheet from any match report. Easily get the full breakdown of the match in a CSV file so you can do the math.
---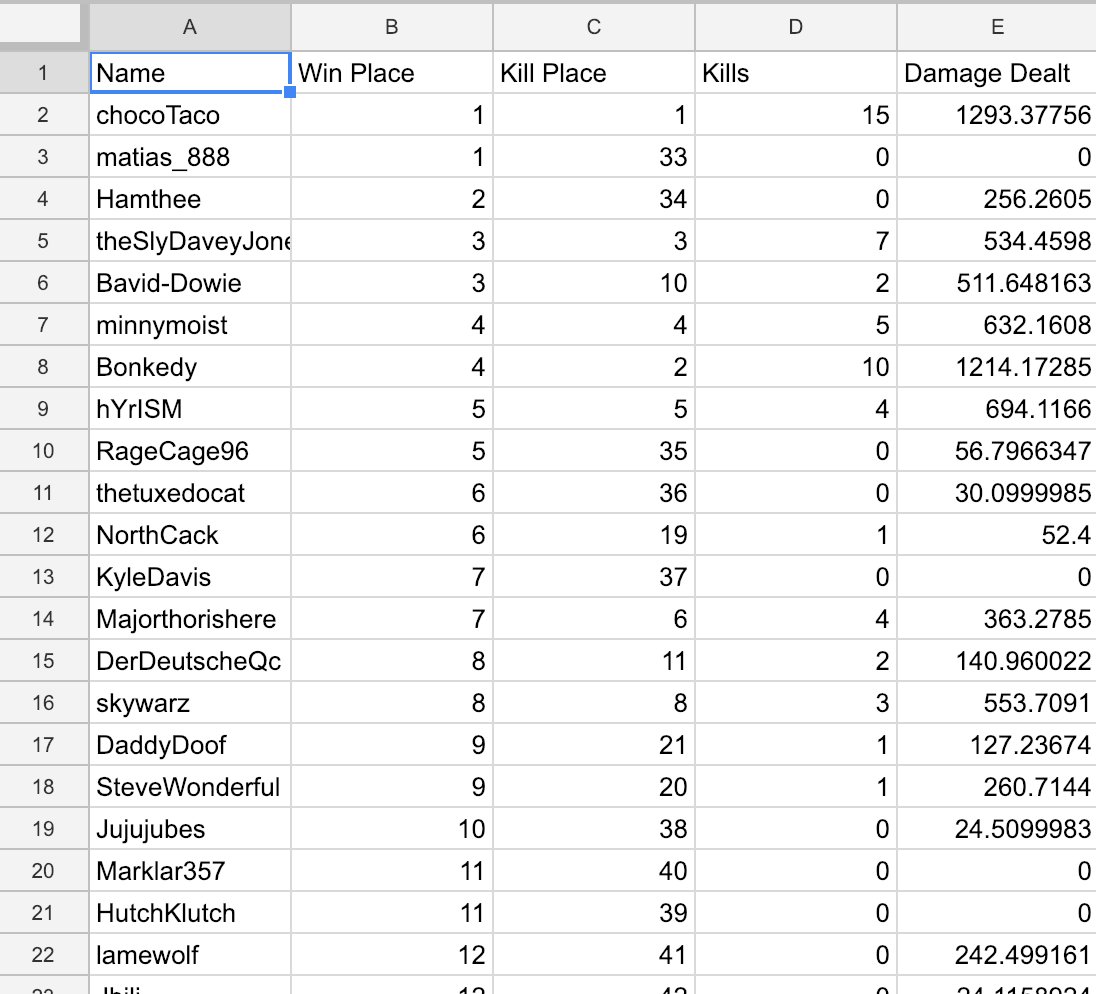 ---