PUBG Tournament Management
Simple, customizable PUBG tournament software
Organize PUBG tournaments easier than ever before with comprehensive tournament management.
---
Scoring for kills & placement
Define your own points distribution to create tournaments that focus on kills, placement, or both. You can assign point values to placements 1 - 100 as well as points-per-kill. Want a more action packed tournament focused on getting in the action? You can do that. Want a tournament focused on tactics and survival? You can do that, too.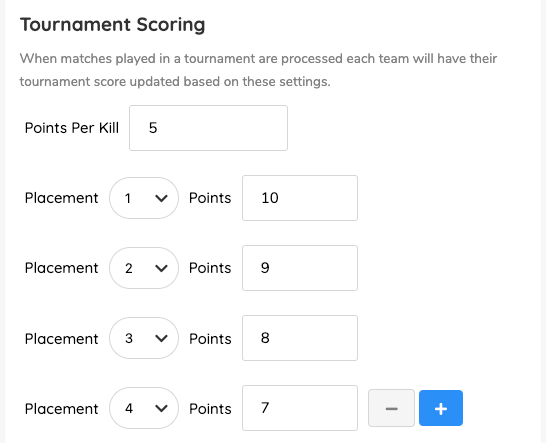 Public leaderboards
Every tournament has a public leaderboard that you can share with your participants, viewers, and fans. Leaderboards show the most current placement for all teams, kill leader, damage leader, last match, and more. Click into any team to see details about each player's performance for every match played. You can dive straight into match reports to get even more information.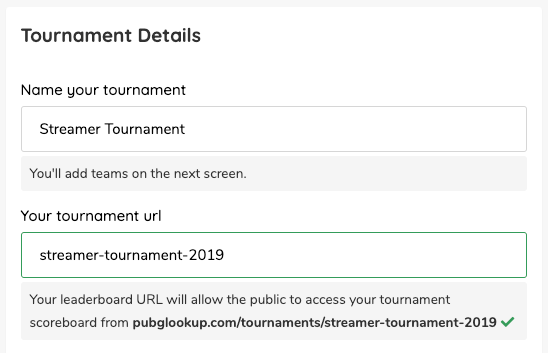 Simple team management
Putting together a tournament full of teams and players is simple. Enter the team name and then use the auto player verification inputs to add your player names. No more guess-and-check when adding players. You'll get instant feedback about player availability so you can be sure each participant is entered correctly and ready to go.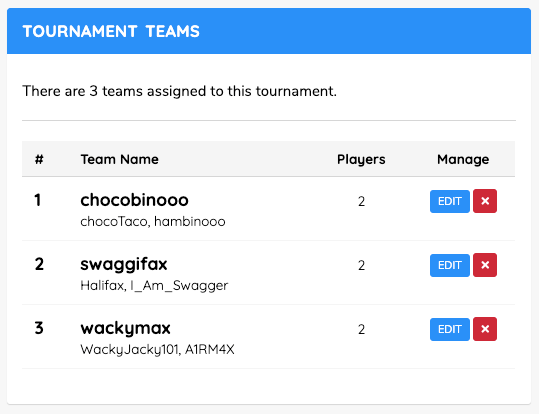 Embed your stream
If you're a streamer or caster that is running a live tournament you can embed your Twitch or Mixer stream directly into your public leaderboards. Share your leaderboard URL to give viewers a one-stop-shop for your tournament. Don't worry, though. You don't have to add a stream if you're not broadcasting the tournament.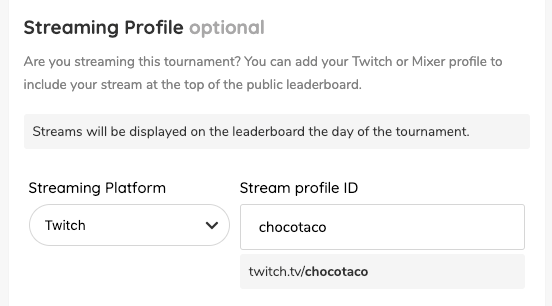 Instant match processing
PUBG Lookup Tournaments use a "tournament tracker profile" to track available matches. The tournament tracker is any participant that is playing in all matches. After the chicken dinner is awarded your match will be listed in the "Available Matches" list. Just click "add to tournament" and scores will be automatically processed for all matches.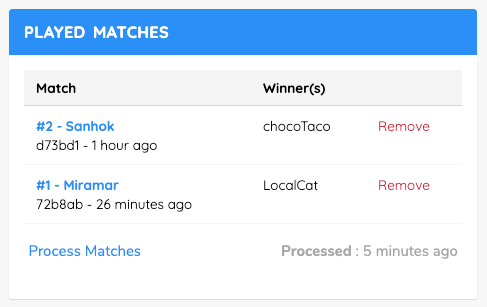 Promote your tournament
Coming Soon!
In an upcoming release you'll be able to promote your tournament on PUBG Lookup straight from your tournament management screen. It's designed to increase participations for your events by getting in front of thousands daily PUBG players. More information coming soon!
---
Interested in more than Tournament Management?
PUBG Lookup has tons of features to improve your gameplay, research other player statistics, follow your friends, save match reports, and so much more. Check out all of the features you get by using PUBG Lookup
PUBG Lookup's Features
---